New School Year, New Home: 3 Reasons to Buy a Move In Ready Home
Corey and Tori Davis wanted a larger home for their family, but quickly tired of shopping the seller's market of existing houses and didn't want to take the time to build a new home from scratch. Steve Seely, on the other hand, needed to move on short notice for health reasons but loathed the idea of putting tens of thousands of dollars into updating and repairing an older house.
Two totally different situations, one common solution: Both Seely and the Davis family decided to buy a Move-In Home from Eastbrook Homes.
"I had made up my mind I was going to make this move happen, and it all fell into place," said Seely, 71. "I literally bought the house and I moved in three weeks later."
What is a Move-In Home? Sometimes referred to as Showcase Homes, they're new homes that Eastbrook builds without specific buyers. They're listed for a set price as soon as the home's foundation is dug. And they're available in Eastbrook communities from Lansing to the Lakeshore.
In the current market of overpriced bidding wars for aging homes that need remodeling or expensive maintenance, Eastbrook's Move-In Homes are becoming a popular option for many buyers. You get a new home without the hassle of competition, one that's covered by warranties, and you get to move in within a shortened timeline, sometimes right away.
Eastbrook currently has more than 80 Move-In Homes under construction, somewhere between the excavation and drywall phases. Another 70-plus Move-In Homes are in design.
"We have made a concerted effort at getting these Move-In Homes out at all different price points," said Josh McGraw, Eastbrook's vice president of sales and marketing. "People are tired of being outbid on existing homes. They're frustrated. They've got anxiety. It's been a tough market and I think it will continue to be that.
"We want nothing more than to help these buyers find a home in a timely manner in a location and at a price point that suits their needs."
Search available Move-In Homes across Michigan
Here are three reasons you should consider an Eastbrook Move-In Home:
No bidding wars – There's no auction-style deadline for purchase offers and you're not pitted against other prospective bidders. If you're the first buyer to make a full-price offer on an Eastbrook Move-In Home, it's yours. "When I list my Move-In Home, that price is the price," McGraw said. "You don't have the bidding wars and the stress of that. You have the certainty of that price."
Everything is new – No updating needed. No worries about making repairs. Each Move-In Home is designed by Eastbrook's team of design professionals with the most up-to-date selections and finishes. Plus, every Move-In Home comes with a 1-year warranty, and Eastbrook will make any needed paint touchups 30 days after move in.
Move-in ready – Because construction is underway or sometimes even completed and many design choices already have been made, you can move into a Move-In Home in short order. Not only do you get a home with the latest trends and features, but you get it now without a wait.
All three of those reasons were important to Corey and Tori Davis, who moved last fall into a Move-In Home in Eastbrook's Shadow Glen community in Grand Ledge, west of Lansing. With two growing boys, their previous house was getting tight, and "especially with COVID and the shutdown we realized how much space we didn't have," Corey said.
But the existing homes that went up for sale seemed like they sold as soon as they were listed. And Corey, in particular, didn't want to go through the process of building a home from scratch.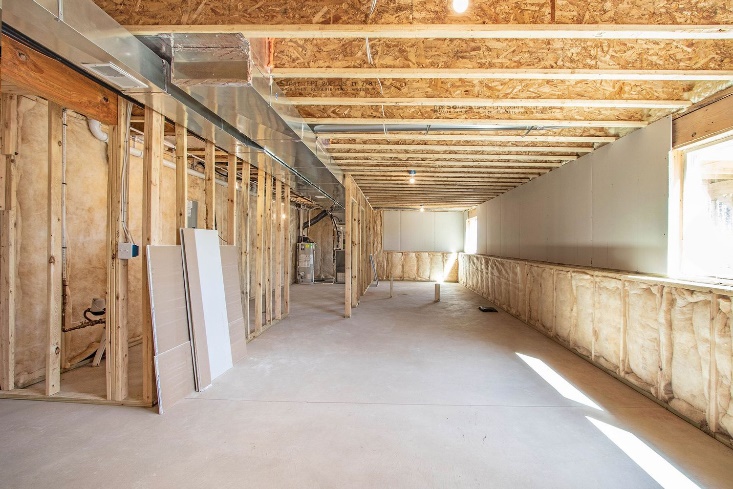 Their Realtor suggested an Eastbrook Move-In Home. It's large enough for their family and has a big yard, too. Plus, the floor plan features an open concept that they wanted and the windows in back let them wake up to the sunrise, see deer during the day and stargaze at night.
Construction was far enough along that they didn't have to wait long to move in. Yet, it still gave them the chance to make some interior selections, from cabinets and appliances to flooring and light fixtures. Six months after moving in, they love their new home. And they love their new neighborhood.
"The neighbors are so friendly," Tori said. "People were so welcoming when we moved in. The baskets kept coming. They just love to shower you with love in this neighborhood and there's a lot of kids."
RELATED: Check out this map of Move-In Homes and find the Eastbrook community where you want to live
Steve Seely was splitting time between two homes including a large Grand Rapids-area Colonial with lots of stairs and a northern Michigan residence more than three hours away. After experiencing a medical emergency last year, he decided to rethink his lifestyle and started looking for a ranch home near friends and family in Lansing.
Unfortunately, the used homes that he toured all were outdated and in need of big-dollar maintenance such as new roofs and new furnaces.
"I was like, you know what, I'm just going to get a new house," Seely said. "Everything is warrantied."
Because he didn't want to take the time to build, an Eastbrook Move-In Home was perfect. He found a Georgetown model that Eastbrook had built for the Parade of Homes. It has a spacious, open layout that he loves including a large kitchen with big walk-in pantry, a sunroom where he likes to read and lots of features built in. He can open the doors to his 3-stall garage or start the washer and dryer with his phone, for example.
Five months after moving in, Seely says his new Move-In Home "is just so comfortable."
"I was completely dumbfounded how smoothly everything went," he said. "They literally walk you through the house, train you on the technology that's in there and explain to you how the maintenance needs to happen. Then they come back 30 days after you move in and have a sit down with you and go through everything again and make sure everything is working the way it's supposed to. It's just been really seamless.
"Having looked around at some used homes and then buying new, I'd say go for the new."
Published on 08/23/2022
Get Our Blog Posts
Delivered To Your Inbox
Get Expert
Home Advice
Talk to an expert about your new home options! Our Online Sales Team is here to help you through your Eastbrook discovery process. Get in touch with us today!