Holiday Home Tour Number 3 – The Villegas Family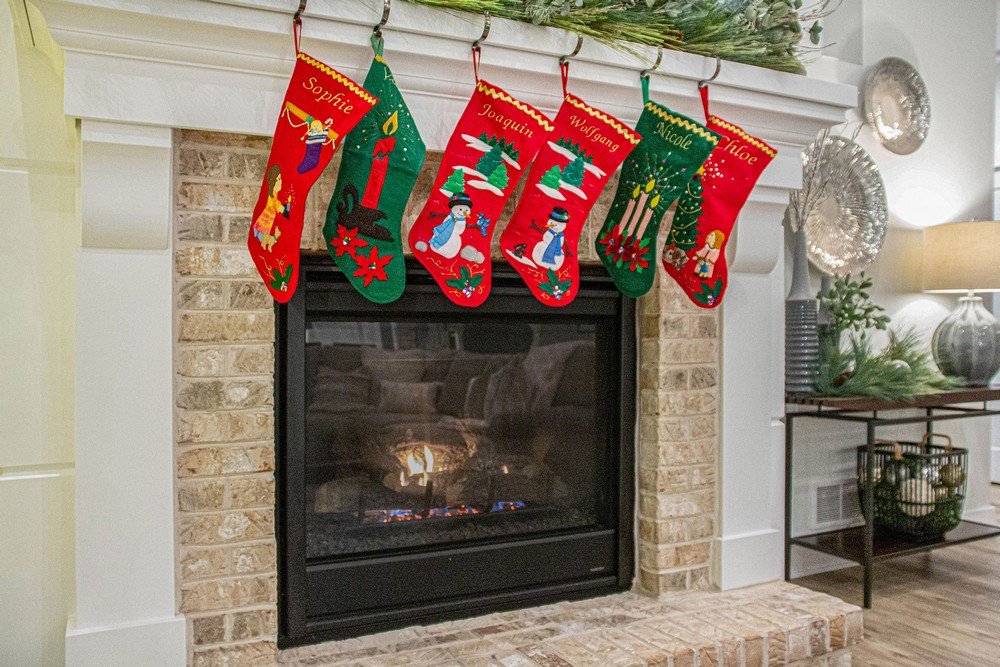 Welcome back to the Eastbrook Homes Holiday Home Tour! On tour stop number 3, we have been given a peek into the beautiful, and impeccably decorated home of the Villegas Family, as well as some insight into their Christmas traditions and decorating style.
Every family has their own special holiday traditions, and the Villegas family is no different. They've taken a well-known Christmas classic and made it into the centerpiece of a fun family event – including some of the more unique details.
Read on for a glimpse into the Villegas family home!
EBH: What Eastbrook community do you live in?
V: We live in Wolven Ridge.
EBH: What home plan did you build or buy?
V: We built a custom version of the Birkshire floorplan.
EBH: What is your favorite Christmas tradition?
V: Since Vince was a child, his family tradition has been to eat Chinese food on Christmas Eve and then after dinner, tune into the movie A Christmas Story and leave it on all night, and then again all Christmas Day. Our family has honored this tradition now with our children.
EBH: How would you describe your Christmas decor style?
V: This year, our Christmas theme is "Home for the Holidays." We worked with our personal decorator, Julie Wynalda of TrueVine Creations to create a warm, silver & gold, comfort and joy feel for our home this Christmas since our family will be home due to the COVID-19 pandemic.
EBH: What are your favorite features in your home?
V: We LOVE our kitchen and our custom 11' island. We have 4 kids and love to entertain — with this oversized island, it creates the perfect central hub for the home. Additionally, we worked with the Eastbrook design team to customize our home and create a "snug," a small den-like room off the kitchen which is where our family snuggles up and reads, watches TV or takes a Sunday nap.
EBH: What was your building process/Eastbrook experience like?
V: We enjoyed our build process with Eastbrook, the design team worked with us to create the perfect home for our family and incorporated custom features that were important to us.
A big thanks to the Villegas family for teaching me what a "snug" is, and for sharing the details of their fun Christmas tradition. Tune in again this Friday for an extra edition of the Eastbrook Blog featuring another Holiday Home tour.
No matter what your own plans are for the Holidays, all of us here at Eastbrook Homes wish you and your family the very best!
Bonus Material: Check out this exclusive interview with the Villegas family by MLive's Eric Hultgren! 
Related Posts You Might Like
The holidays are here! Celebrate Christmas with Eastbrook as we highlight our West Michigan families during our special holiday edition series of Eastbrook's Homeowner Highlights. Grab a cup of cocoa and a warm blanket while we cozy up to traditions, activities, and...